What a rewarding experience to have been on a call with an artist describes by Ebony Magazine as:
"A true soul singer and distinct voice in R&B, Avery*Sunshine is in a lane of her own with a musical presence that is as relatable as it is mysteriously captivating." Ebony
Multi-award winning artist Avery*Sunshine, whose loyal fan base includes music icons Aretha Franklin, Baby Face, Teddy Riley, Jazzy Jeff, and Patti LaBelle continues to bring her thunderous, gospel-bred pipes and heart-to-heart content to every song and concert.
Her highly anticipated single, 'Come Do Nothing' premiered on Essence.com and recently reached #17 on the Mediabase Urban AC Chart (1/1/17). She was overwhelmed with joy to announce her upcoming tour with headliner Musiq Soulchild, Lyfe Jennings, Kindred The Family Soul and in designated states guests appearances from Chrisette Michelle, Dwele and The Foreign Exchange.
Avery*Sunshine's excitement to share her story with the group of journalists and radio personalities was beyond words.  A powerful synergy ignited through the phone and naturally the talk between us commenced as if we were all old friends sitting in her parent's living room reminiscing about the good 'ole days.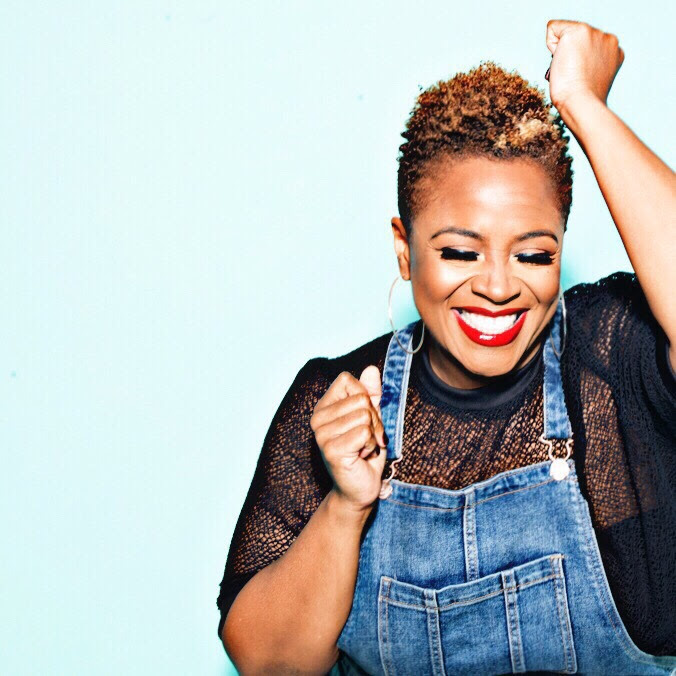 [Group] It's noted that you have a mixture of melodic influences for your music like r&b, soul, jazz, hip-hop and gospel and because of this your style is dubbed  jazz-go-soul.  How intentional was is for you to choose a genre considering your music and soulful vibrations overlapping diverse categories?
[Avery*Sunshine] I went to Spelman College and when I tell you that was a Spelman College question right there!! *chuckles* We make music that feels good to us. And where ever that falls that where it is. If we are able to put it in a genre it would be soul music music that feels good to your soul.  Music that makes you feel something!
I remember we first started working on a project for me, my partner who is now my husband, was like 'people want to know if your gonna do gospel or r&b?' and I was like I don't know!  It used to happen like this: Why don't we just do the stuff that God gives us to do and let that be that.  And that's what we've been doing; asking for divine inspiration.  If that's a song about God, if it's a song about my children, if it's a song about my job or whatever it is. It's divinely inspired. Without having to put labels on it.  I think a lot of what's wrong with us as humans is we have to put labels on stuff and I get it …I get it! But sometimes labeling things in an effort to bring everything together really divides, you know what I mean?
[G] Did you have to fight for that creativity to keep from being placed inside of a preverbial box?
[A*S] Nah! Because we're independent. So we just decided listen we gonna sing. When we started doing this I think I was 32….31-32. I had already had 2 children, divorced, hella grown whole bunch of hits and stuff I was like I'm just gonna…uh uh I'm gonna do what I want to do. If I'm gonna do this it has to be the way I wanna do it and if its 3-4 people that only want to hear it then ill do it for those 3-4 people and let that be that!  Please believe we did have people that did say "if you're gonna do this you need to make music that is like this and at your age it should sound like this or you look like this." I'm like no no, God bless ya'll.  I'm going to do what I've been called to do! You know what I mean?!
[G] Growing up as a musician and soulful singer in an era where life was expressed through the art of song, looking back through the looking glass, how has music changed over the years? Are you proud of its evolution or do think it lacks the very substance that garnered that attention in the first place towards song?
[A*S] Yea, it goes both ways.  The more things change the more they stay the same. What's the saying? 'it was the best of times, it was the worst of times.' So while things are evolving and getting better, clearly there is the other side.  The pendulum is swinging the other way as well. I honor the change in all of that I accept the good with the bad and I know that is so corny but its true for me!  I dare say that you know some of the stuff that's coming out now. It might not listen to it but my children love it! Somebody likes it you know So I honor the change in the music that inspire us to make more music.  I'm really looking at this whole music thing through my children's eyes and they live off of spotify. I mean LIVE off spotify. Always introducing us to new things and even the stuff that might not be so savory to me inspires me and causes me to think and pulls something else out of me so like I said I honor all the music and you know some stuff now we just NOT gon' listen to *laughs* but for the most part I honor our creativity…I honor our creativity!
[G] You are one of 50 women being honored at the 50 women of impact awards (philanthropy)
[A*S] Yessss thank you so much I am honored! I am absolutely honored and grateful.  We were talking about it yesterday and when you look at everyone else being honored its like wow you kinda wish that its you…and then you get an honor like this and you're like wow I feel like I need to do more! I haven't done enough so I feel like I had been called to do greater things and bigger things and to really touch the world in a major way. The music is just a bridge to start healing and awareness for soooo many issues. I mean if we got started yall would hang up on me *laughs* But I do believe that my work is much bigger than just the music forreal from talking about alzheimer's awareness to my father, he's a veteran and receiving really poor care here in Georgia and we had to stay on them! I had to stay on them. You know we're talking about an issue.
So I pray that my music is a bridge that gives me a voice to really start that conversation and get things going and get some stuff changed forreal!  So again I am honored and grateful! There are some other awesome people being honored.  My good friend Angie Stone and you name it! I think there are 50 of us! I'm really looking forward to it!
[G] What was the inspiration behind your new album "Twenty Sixty Four" (2064)?
[A*S] We were clearly previously divorced and we both told each other, listen, we are never getting married again! This is cool.. I like it.. its not broken..ok, so we don't have to try to fix it, its cool leave it alone. Well last year he called me and he said 'Hey! We are going to get married in 2016' and I was like Whaaaaaattt!! And the very feeling that I had dismissed and vowed I would not have…I had. I was excited. I was honored. I was elated. It made me feel girly… was like I'm getting married!!!! I mean I just went bonkers; I saw rainbows and unicorns. And after, I called as many people as I possibly could. My prayer to God was 'God I know I told you I would never do this again but if you would just give me to 2064 with this man..he is the love of my life… my best friend. I'd be 89 and he'd be 91.  If you would just give us until then id be so grateful happy!'
So that's what we decided to call the record; Twenty Sixty Four. And so we are telling a bit of our story about how we got here and talk about our journey. Its corny but its real its our story.

The group was in awe and in love with Avery*Sunshine after she shared her newest love story.  We then had a chance to individually ask her questions and I started off by pleasantly surprising Mrs. Avery*Sunshine that I have relatives who hail from her hometown Chester, Pennsylvania and who spoke very highly and respectfully of her and her family.  Bursting with glee she immediately began speaking of her experiences at home with mom, dad and aunties.
[Leslie Monet] Avery*Sunshine, how would you credit your upbringing in such a close knit community and in the church to your success and your songwriting?
[Avery*Sunshine]: "Being from Chester Pennsylvania, you cannot help but be grounded *laughs.. I lived in a twin house its called shotgun house you could see the back door from the front door and my mother had a beauty salon in the back of the house and our was jumping all the time! And they both worked for Scott Paper Company; my daddy made toilet paper y'all for years and we were on one of the main streets. People real people were always around the house all the time.
I am grateful for my parents who exposed me to reality. Stuff like having house parties. They did house parties and one of my earliest memories and sitting on the stairs and looking in between the bars of the stairs and peeping down when I supposed to be in bed and watching my parents slow drag and one of my aunties dj'ing flipping the records over and my dad would be dancing with mom and holding his drink and those moments uh the sister who was hanging out with the homies and stealing the car and "you better not do that because your sister already did" we were just real people and after we did that we would go to church *laughs* you know what I mean! Real people.
I'm grateful for my parents for allowing me to see all of that.  My father was one of the town comedians and never made got a dime for it.  My mother would say you run your mouth so much you should run to make some money we'd be rich! I say all that to say when I think of being home I think of where this career has taken me because I didn't expect that at all. My parents always encouraged me to do whatever it is that I felt like I was called to do. At no point did I ever tell them you know I want to be a musician or I want to be an artist.  I think I told them I was gonna be a corp lawyer because corp lawyers make a lot of money that was my thing. and they said if that's what you going to do make sure you love it I don't know what it was I don't know if it was the cheese steaks I don't know if it was Scott paper company I don't know what it was but there's something about…and I was from the hood y'all.  My mom and dad moved here to Atlanta and said listen we are going to take care of those kids while you go on the road.
It's a blessing to have my parents and all of my Chester roots come here to remind me who I am everyday…everyday. All the days my father would drive me one way 25 miles to school and pick me up every day.  Excuse me for having a moment I hadn't talked about that in a while. Talking to you reminds me and makes me miss home.  Makes me appreciative of where I've come
[LM] Did you happen to catch last night's farewell address from our beloved Barack Obama? 
[A*S] Sure did! Watched the whoooole thing and was moved to tears many times. The thing that stuck out the most for me was the way he honored his wife and acknowledged in so many words his wife and said he wouldn't be here without and he didn't say that but the way he stopped and paused and he addressed his wife. And that was so moving and his family and he talked about his staff.  And there was another thing in particular that he did say. "Embrace all and not some" and the only thing that had to be said after that was Amen! A brilliant man we are going to miss him we are grateful we had him as long as we have and we're cuff our knee caps up praying that things will get better.
 It was impossible to not feel total inspiration after hearing Avery*Sunshine's enthusiasm for God's plan over her life, career and marriage.  I immediately began jotting down ideas for ways to serve my immediate community and connect resources.  With the immense changes our country has just witnessed, it is imperative to do ALL you can do to improve the lives of others close to you…especially if it's in your power!
I hope and pray that you feel my heart and my soul, that every post, song encounter that I have for lack of better word, but its real genuine.  I mean it. I hope you feel inspired and empowered and to be passionate about whatever it is.  No matter age color who ever you decide to love.  When you see my story you are empowered to do the thing God has inspired to do by. To be the best You that you can be!  Lets not cut off God's plan for our own desires – Avery*Sunshine
Some causes that Avery*Sunshine has been proud to participate in include raising awareness for domestic violence, lupus, multiple sclerosis, Music & Arts Education in Schools, breast cancer, HIV prevention through World AIDs Day (w/Sheryl Lee Ralph's Divas), Alzheimer's disease, mentoring, youth empowerment, female empowerment, raising awareness for health disparities, and increasing health literacy just to name a few.
The tour will bring light to Alzheimer's which effects nearly 5 million in the United States alone.  If your having trouble finding a cause to support you can always do your part by supporting your favorite musicians whose generosity will trickle down to those in the most need all from the proceeds of your patron.
The tour kicks off tomorrow in Raleigh, NC.  Visit www.nusoulrevivaltour.com to see when they will be in a city near you!
Follow Avery*Sunshine on Instagram at @AverySunshine and stay inspired ♥