Everything is subject to perspective, however depending on the time and place of the mind contemplating with the stars, you may find slight variations in name and class of this year's spring supermoon, the "Pink Moon".
While the moon itself may not illuminate the sky in rich pink hues, according to reports, the "Pink Moon" was given its name after the annual appearance of the Phlox subulate plant, referred to as "Moss Pink", which grows naturally in the sandy soils or and rocky ledges of North America. This bloom appears in early spring and belongs to the perennial family.
The Anyuniwiya, modernly referred to as the Cherokee, tribe of the East Coast call this supermoon the "kawohni" or "flower moon," while the Creek tribe of Southeast America refer to it as "tasahcee-rakko" or "big spring moon." Serendipitously, so-called religious groups like Eastern Christians, Buddhists and Hindus also honor the moon's vivacity, calling it various names such as "Paschal Moon" which marks the Eastern Christians interpretation of Easter (May 2nd this year). Marking the Buddha's visit to Sri Lanka to settle a dispute between chiefs to avoid a war, Buddhists, commemorate this moon as "Bak Poya" and according to the Hindustani this moon is the "Hanuman Jayant", marking the celebration of the birth of Lord Hanuman.
While in the paradigm of mysticism and "Jesus is Savior" toters quickly fades as the Age of Aquarius persists, the power of the luminaries is undeniable and science continues to reign in differential perspectives as the world's wealthiest and long-lasting communities would be remised to neglect the phases and transits of the moon's nurturing influence on the planet's life-giving resources. According to the The Old Farmer's Almanac, there are nine full moons remaining this year including April's Pink moon:
May 26 Flower moon

Haida: "tahálaa kungáay" meaning food-gathering moon

June 24 Strawberry moon

Potawatomi: "msheke'kesis" meaning moon of the turtle

July 23 Buck moon

Winnebago: "corn-popping moon"

August 22 Sturgeon moon

Sioux: "cherries turn black"

September 20 Harvest moon

Mohawk: "msheke'kesis" meaning time of much freshness

October 20 Hunter's moon

Shawnee: "sha'teepakanootha" meaning wilted moon

November 19 Beaver moon

Algonquin: "quince kesos" meaning much white frost on grass

December 18 Cold moon

Zuni: "ik'ohbu yachunne" meaning sun has traveled home to rest
The #PinkMoon setting at Stonehenge this morning.🌕🔭💫Credit – Nick Bull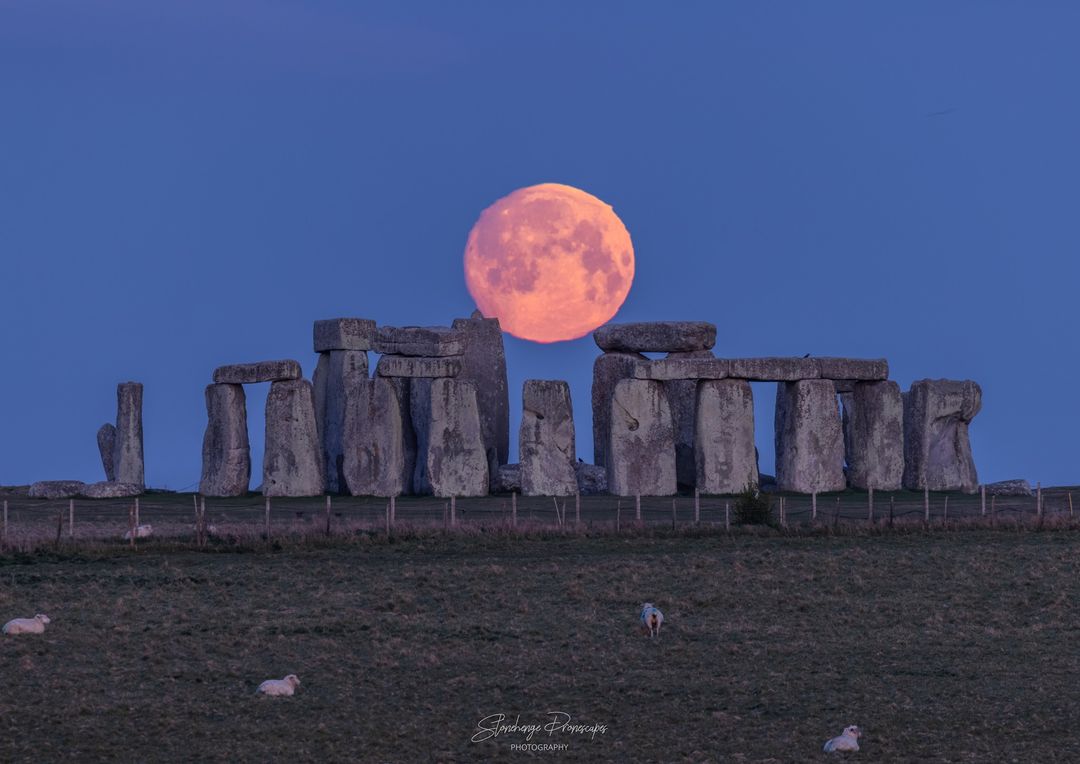 Originally tweeted by Stonehenge U.K (@ST0NEHENGE) on April 26, 2021.
Some more remarkable cosmic events to note your (7HealStar™) astro-calendar with include this years upcoming solar and lunar eclipses. There will be two of each and three of the four will be visible for some of us on the North American continent.
2021 Lunar Eclipses
2021 Solar Eclipses
26th May, 4:46 ante meridian ET to 9:51 am ET
Visible to those in western North America and Hawaii
10th June, 4:12 a.m. ET to 9:11 a.m. ET.
Annular solar eclipse visible in northern and northeastern North America
19th November, 1:00 a.m. ET until 7:06 a.m. ET
Partial eclipse of the moon visible to skywatchers in North America and Hawaii
4th December
Total eclipse visible for those in Falkland Islands, the southern tip of Africa, Antarctica and southeast Australia
Horoscope for the Pink (Super) Moon
With the moon being in the undertaking sign of Scorpio in the 10th House of Career in the 17th lunar mansion, the mundane influences of this supermoon will be truly amplified. Moorish American Astrologer Brother Hasan Ghaziel Bey delineates the "Pink Moon"s energy in 180 degrees reflection to the sun in the 4th House in the 3rd lunar mansion:
"Determine to remain resourceful, securely creating value via Ancestral Honor."

Brother Hasan Ghaziel Bey
Expect this energy to charge your inner self in aligning your inheritance, whether it be a passed down skill or physical heirloom, with your career moves. This will be a great time to establish and enforce contracts pertaining to your children's inheritances such as Trusts and securing private family banking practices.
You can catch this year's Super "Pink Moon" at its fullest phase tonight at 11:32 p.m. ET, according to NASA. Just a reminder, admire the moon for it's influence rather than the inferred color as it will most likely appear in its traditional yellow to pearly glow rather than pink as the nickname suggests.
Sources: Archeo, CNN, Britannica